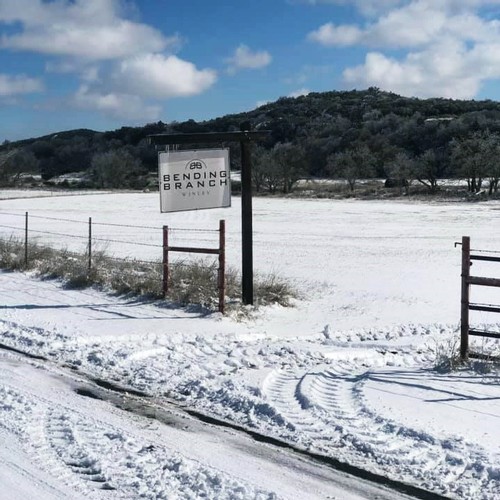 "Weather permitting." It's the headline of the week!
Our hearts go out to all who have been contending with consequences of the storm, and to all the hardy souls who have been working diligently to keep us safe through the arctic blast. Some of our Bending Branch team have had challenges, too, but we're keeping tabs on everyone.
Here is our plan, weather permitting. The tasting rooms at Bending Branch Estate and Ursa at Branch on High are scheduled to open again at noon on Saturday. In the meantime, contact us at club@bendingbranchwinery.com if you need to get in touch. There is no one on site to answer the phone since many of us are working from home with sketchy power and internet. We'll answer your email as soon as we are able.
Until then, here is news you can use about this weekend's wine club Drive-Thru Pick-Up Party. All club members with Saturday reservations have been rescheduled to Sunday, at any time between noon and 5 p.m. You do not need to change your reservation, just show up on Sunday between noon and 5 p.m.
We will miss you if you cannot attend on Sunday. You may cancel your reservation through Tock. See more drive-thru party details and the Tock link HERE.
Although we won't be hosting the Drive-Thru Pick-Up Party on Saturday, the tasting room at Bending Branch Estate will be open from noon to 6 p.m., Saturday the 20th, for wine club pick-up and curbside service only. You do not need a reservation to pick up your wine and chocolate.
We will not be at the Pearl Farmers Market on Saturday the 20th, but we plan to be at our usual location on Sunday, February 21st, from 10 a.m. to 2 p.m.
We hope to see you as the weather becomes more cooperative, and we apologize for the change in plans. Once again, please contact us at club@bendingbranchwinery.com if you need assistance.