Ursa at Branch on High
PLEASE NOTE: We are taking extra precautions due to COVID-19. See our Guest Advisory below.
Potluck at Ursa at Branch on High has been suspended until further notice.

Hours
Thursday through Sunday, noon to 6 p.m.
Curbside/Door Pick-up service is available.
Porch service by reservation.
Find us at
704 High Street
Comfort, Texas
830-995-3394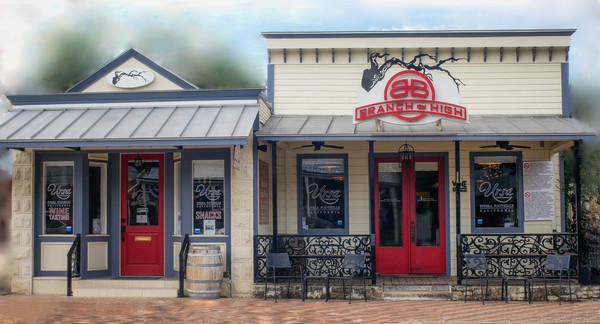 Ursa at Branch on High COVID-19 Guest Advisory

It is important that all guests read and understand the following measures we are taking to offer the safest experience possible. Guests are required to follow these guidelines while visiting Ursa at Branch on High.
Reservations are for open-air seating on the porch. There is good evidence that the risks of COVID-19 transmission outside, with physical distancing, are very low.
Visits by appointment only. Appointments allow our team to manage the flow of guests at any given time. This allows us to provide an excellent experience for those who are able to come visit us. Reservations will have a set start and finish time to allow time for sanitizing spaces.
Intervals between seatings for sanitation. We have built in time between appointments to clean and sanitize all spaces and reset fresh for the next group of experiences.
Masks for us and masks for you, until you're seated. Our team will be wearing masks and we ask that you wear them too until you're seated at your table and when you leave your table for any reason. Masks help stop the spread of COVID-19. We have disposable masks if you need one. We also have canvas masks for $6.
No groups larger than 4. We want to provide excellent attention to each group when they are visiting, and our current seating and spacing requirements mean we are unable to accommodate groups larger than 4 at this time.
Health screenings for our team. We're daily screening our team for temperature and COVID-19 symptoms. No one showing or experiencing symptoms is allowed to work.
Sanitation protocols. In addition to cleaning all surfaces between groups, we've implemented the use of UVC wands and Ozone or O3 equipment to neutralize viruses and bacteria in bathrooms and tasting rooms. Measures are taken to provide sterilized supplies for your visit.
Late arrival policy: A reservation will have to be rescheduled if guests arrive 15 or more minutes after their reservation time.
Inclement weather policy: Ursa at Branch on High may be forced to cancel your reservation in the event of extreme inclement weather.
Liability release: Guests acknowledge the risk of exposure to COVID-19 inherent in patronizing any hospitality venue, and release Ursa at Branch on High and Bending Branch Winery from all liability.
No-show and cancelation policy: For reservations not canceled more than 24 hours in advance, your fee will be retained.

Symptom screening
Please postpone your visit if you've had any of these symptoms over the past 14 days: fever, shortness of breath, cough, chills, repeated shaking with chills, muscle pain, headache, sore throat, new loss of taste or smell.
If you've had contact over the past 14 days with someone diagnosed with COVID-19, please postpone your visit at least 14 days from the time of contact.
If upon arrival you are experiencing a new symptom, we will be happy to help you reschedule.