Estate Winery and Tasting Room
PLEASE NOTE: We are taking extra precautions due to COVID-19. The Tasting Room is open for curbside service and outdoor tastings by appointment.
Visit us in the beautiful Texas Hill Country near Comfort, Texas. Call ahead for orders and enjoy curbside service: 830-995-2948.
We offer a self-guided tasting of four wines for $20. Paid tastings include a souvenir wine glass. This casual, self-guided tasting is designed to minimize contact and encourage tasting wines at your own pace. You will pick up your wine tasting set from the tasting room, and take it back to the table you selected upon your arrival.

The four wines will be served in individual carafes for self-service with a single-use menu that will guide you through the wines. Guests are welcome to purchase additional glasses or bottles after their tasting.
No groups larger than six, including children. Please see our pet policy below if bringing a furry friend.
Safety is our top priority. We are taking extraordinary precautions to sanitize and maintain physical distance. It is very important to read the Bending Branch Winery COVID-19 Guest Advisory before your visit.
---
--> CLICK HERE TO MAKE A RESERVATION THOUGH TOCK. <--
---

Hours
Curbside service and tastings by appointment are available 7 days a week, noon-6 p.m.
Find us at
142 Lindner Branch Trail
Comfort, Texas
830-995-2948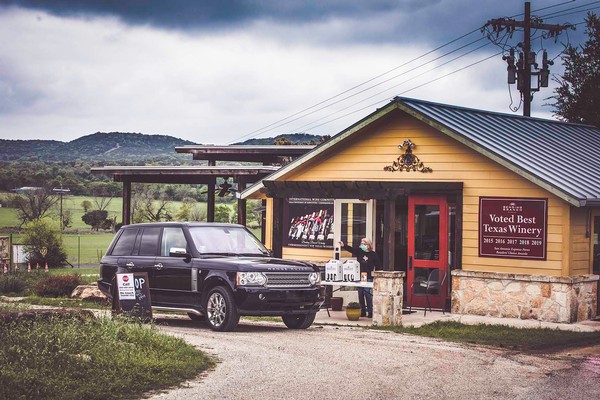 Pet Policy
Well-behaved pets are currently welcome at the Estate Tasting Room. Out of consideration for all of our guests, we require that dogs remain on a leash outside, and stay near their humans.
Please follow these guidelines when bringing pets to Bending Branch Winery:
Dogs should remain on a leash at all times.
Pet owners are responsible for their dog's behavior. Be mindful of your neighbors.
Dogs who display any type of aggression are not allowed.
Dogs must be up to date on all vaccinations.
Please help keep our property beautiful by cleaning up after your pet.
Pets are NOT currently allowed at the Wine Club Lounge outdoor experiences. Our chickens appreciate your understanding.