March 15, 2021 |
Sara Potter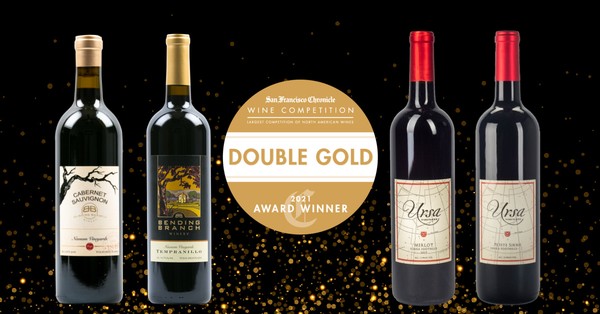 We are absolutely THRILLED to announce our results from the 2021 San Francisco Chronicle Wine Competition that took place in early March. There were over forty-eight judges, representing various North American wine regions, evaluating nearly 5,700 wines from over 1,000 wineries. The awards that Bending Branch Winery and Ursa Vineyards received are an amazing recognition of the hard work of our incredible winemaking teams and wonderful growers.

Pictured: Greg Stokes, Deborah Elissagaray, Dr. Bob Young, Brenda Young, Alison Young
Two great wineries. One amazing team.
Our California brand, Ursa Vineyards, also had impressive results. Nestled in the pastoral foothills of Placerville, California, Ursa was founded in 2001 by husband-and-wife winemaking team, Greg Stokes and Deborah Elissagaray. A mutual interest in Tannat is what brought together Ursa and Bending Branch Winery, when Dr. Bob Young hired Greg as a consultant in 2007. Their professional relationship flourished, and when Bending Branch was founded in 2009, its first wines were made by Bob and Greg at Ursa. The Young family purchased Ursa in 2014, making Greg and Deborah a permanent part of the team. Ursa wines are featured at our tasting room in downtown Comfort, Ursa at Branch on High.
DOUBLE GOLD 2017 Merlot, Sierra Foothills
DOUBLE GOLD 2017 Petite Sirah, Sierra Foothills
GOLD 2019 Tannat Rosé, Silvaspoons Vineyard
SILVER 2016 Zinfandel, Sierra Foothills
SILVER 2018 Mencía, Silvaspoons Vineyard*
SILVER 2017 Syrah-Sirah, Sierra Foothills*
SILVER 2017 Tannat, Ferrel Ranch*
* Not yet released.

Virtual Happy Hour
Join the Bending Branch and Ursa teams for a special Drinking Double Gold happy hour on Zoom this Friday, March 19th. Winemaker Greg Stokes will join us to talk about all of these stellar wines. Find the event details and Zoom link on our event page.