December 7, 2021 |
Sara Potter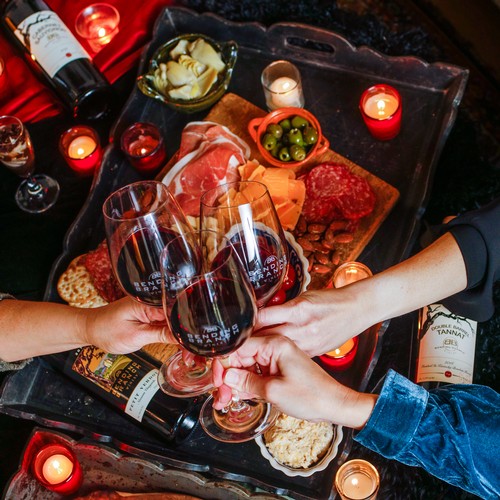 What are the Bending Branch staff drinking for the holidays?
We've tasted them all. Here are our top picks!
Jackie Swan, Tasting Room Associate
I will be drinking our new release 2018 Tannat, Tallent Vineyards for our Christmas Day dinner. We will be having a standing rib roast with Yorkshire pudding. It's a family tradition.
Erin Shields, Wine Club Assistant
My family tradition is chili (with beans). My whole life we have had chili on Christmas Eve. Growing up this was always a tradition that we celebrated by gathering at my Grandma Margaret's. Although she is no longer with us and our family is in different parts of the country, we still prepare chili on Christmas Eve in our respective homes. My pairings would be Bending Branch 2018 Tempranillo and/or 2018 Ursa Zinfandel.
Kim McCallum, Tasting Room Associate
My thoughts for dinner are to make individual Beef Wellington's paired with Tallent Tannat, a Tannat red wine mushroom sauce and cheesy potatoes gratin. As an appetizer a baked brie with raspberry chipotle puff pastry served with the bubbly Brut! And, I might add, playing Charlie Brown Christmas music by Vince Guaraldi.
Tom Kartrude, Tasting Room Associate
Our holiday meals must include a beef rib roast. The 2018 Cabernet Sauvignon, Newsom Vineyards tastes like a great pairing for our favorite recipe for coffee and pepper rubbed rib roast (along with some Dijon mustard and crushed garlic). The 2018 is a bit lighter and more complex than most young Cabs, allowing it stand in well for Cabs with a little more age and finesse. The 2019 Napa Cab would be a great alternate, but with the limited supply I doubt it will still be available for the holidays…plus I think we just need to celebrate the holidays in true Texas style. After all, Santa may be watching.
Carla Carter, Tasting Room Associate
My go-to is Texas Tannat as a standalone or pair it with shrimp creole.
Deborah Elissagaray, Co-Winemaker at Ursa Vineyards
It's no surprise that the wine we'll be pouring is the D'Elissagaray Basque Blend. It takes me back to Amatchi's (grandmother in Basque) and her long family table (24 of us without guests!) and the smell of lamb and garlic potatoes and drinking wine out of any vessel, goblets to jelly jars.
Allison Thomason, Enologist
I act the same way at home as I do in the office, I snack all day! This year I will be snacking on my Mimi's cranberry pecan jalapeno chutney on top of cream cheese with a glass of Desert Willow Mourvèdre to the point I almost ruin my dinner. After Christmas, I will read my new book from Santa with Double Barrel Tannat and ALL of the leftover fudge in the house.
Sara Potter, Marketing Coordinator
I'm looking forward to opening some bottles I've been holding on to for special occasions, like the 2017 Celebration Cuvée and also Chloe Cuvée. And bubbles, of course! I have a couple of bottles of Tannat Frizzante left and Bending Branch Brut is a no-brainer for Christmas and New Year's Eve.
Will Thomas, Tasting Room Associate
I am enjoying the 2018 Tempranillo, Newsom Vineyards which features nice berry fruit and integrated tannins making it a versatile food wine. I have paired it with smoked chicken and grilled cedar planked salmon with great results and plan on drinking it with filet mignon on Christmas Day.
Amy Wagner, Cellar Assistant/Tasting Room Associate
I'm definitely a Bending Branch Brut girl. As I get out of bed on Christmas, I look forward to the smell of banana nut stuffed French toast being warmed in the oven as I make my mimosa! This year we will have tamales on the menu, and I'm going to pair them with the 2018 Mourvèdre. I love this wine, and it really brings out the flavor in my tamales.
Susie Boswell, Wine Club Manager
The 2018 Double Barrel Tannat is by far the best we've ever had! We will pair it with prime rib for Christmas dinner.
Jennifer Cernosek, Direct to Consumer Manager
The Bubbles Trio that we are offering is a must-have, especially at $80 per package. Three bottles of Bending Branch Brut hits some of the major traditions for my family. Tradition 1: Each year, when decorating our Christmas tree, my husband Brandon and I always pop a bottle of bubbles to celebrate. Tradition 2: Perhaps a new tradition, my cousin Christy and I hosted Thanksgiving together for the first time. For everyone prepping food at her house that day, we started with a pour then toast of Bending Branch Brut. And while I could come up with a dozen other reasons to open celebratory bubbles between Christmas tree decorating (which is before Thanksgiving at my home) and New Year's Day, celebrating with Bending Branch Brut is a staple to any New Year party (Tradition 3).
My other holiday pick is 2018 Petit Verdot, Newsom Vineyards. I could not be more excited about this wine, and it is the first vintage of single-variety Petit Verdot produced by Bending Branch Winery. This grape was harvested with the intention of using it for blending, but when tasting it from the barrel, it was so good that the winemaking team chose to bottle it on its own. With less than 40 cases available to sell, it was first offered to 1840 members as an add-on to their December release. Very little of it remains. Not only is it incredibly good, but it is a conversation piece. Bringing a very rare wine to a holiday gathering is a thoughtful and special touch. It's bold and will pair well with charcuterie, appetizers or the main course. So how to you get it? It's not online, but you can call the tasting room at 830-995-2948 to purchase or stop in and buy a bottle. While supplies last, of course.
Colleen Mergele, Tasting Room Associate
We will enjoy 2018 Petit Verdot with dill mushroom soup with farmhouse sourdough bread.
Judy Sullivan, Tasting Room Manager
I will be enjoying the bubbly Brut with divinely decorated Christmas cookies!
Stephen Mergele, Ursa at Branch on High Tasting Room Manager
My family will be drinking the 2017 Mencía and the new 2018 Zinfandel. After dinner, it's time for the 2013 Angelica with dessert.
Terri Reusch, Tasting Room Associate
We will have a bottle of 2020 Tannat Rose, Tallent Vineyards served with roasted turkey and all the fixings. And of course, a bottle of bubbly Brut to bring in 2022!
Karen Cook, Tasting Room Associate
I am decorating my glass with 2018 Tannat, Tallent Vineyards. I was fortunate enough to get a preview when we bottled this over the summer, and now I plan to enjoy it with baked ham glazed in chipotle and apple butter, and a sharp cheddar potato galette.
Jim Mitchell, Tasting Room Associate
On very special occasions, I like to grill a large Texas Tomahawk Ribeye. I marinate the ribeye overnight with a coconut garlic amino sauce, Rudy's rub, Himalayan salt and crushed black pepper. I like to grill it old school style on an open fire pit with charcoal and mesquite wood. When the coals are ready, I sear the steak on all sides and then move the steak away from the high heat and take my time to slow cook it. Lots of patience and a glass of a good Kentucky bourbon is required. When the steak is ready, I top it with slabs of butter and let the steak rest several minutes. Now, it's ready to eat and nothing goes better with it than a Double Barrel Tannat. I have currently have three bottles in my wine chiller – one 2017 and two of the 2018 vintages.