September 11, 2023 |
Jennifer Cernosek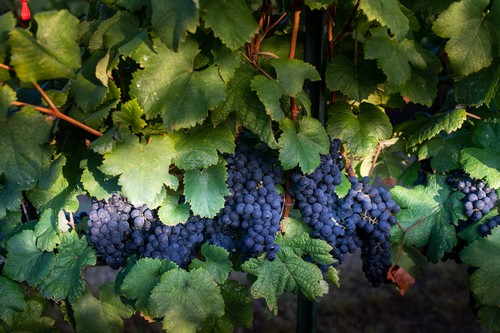 As of September 8, and we have received approximately 280 tons of grapes and are about halfway through harvest. Here are some highlights of the 2023 season so far.
Texas Charbono
The first harvest of Charbono in Texas was from Tallent Vineyards on August 25, yielding 3.21 tons. Charbono that is grown in the United States has the same DNA as Bonarda that is grown in Argentina. Bonarda and Charbono are the same as the orginal Corbeau grape variety from the Savoie region in the French Alps. Bonarda is the second most planted grape variety in Argentina next to Malbec.
Charbono was also widely planted in California until the Judgment of Paris in 1976, and the success of Cabernet Sauvignon. Many Charbono vineyards were uprooted to follow the popularity of Cabernet Sauvignon, but you can still find some wineries in Calistoga and surrounding areas making fantastic Charbono wines.
Bending Branch has been producing a Charbono from the Sierra Foothills that is made at Ursa Vineyards in California then transferred in barrels for additional aging and bottling in Texas. The Charbono wines have been a longtime favorite of club members, and we've been eager to make this wine in Texas. Both Charbono and Bonarda were planted on the original Bending Branch Estate Vineyard, in 2014 and 2011, respectively. The 2011 planting of Bonarda did not survive because of the hottest and driest summer in Texas in a century. Pierce's Disease took the Charbono vines before there was a viable crop, so more vines were purchased, and an arrangement was made with Drew Tallent of Tallent Vineyards to plant them in Mason, at his premier vineyard.
Secret wine projects
Three secret wine projects are in progress. In the throes of Bending Branch's largest harvest, Dr. Bob had two pioneering ideas (along with a spin-off) that he wanted to explore, all of which are showing promising starts and will have fun stories to accompany them. More to come later, when the time is right.
Traditional sparkling wines
With Winemaker Chris Missick spearheading the white and rosé wine programs, his expertise in sparkling wine production using traditional methods is at good work at Bending Branch with two sparkling projects. Within the first week of joining the team, one ton of Picpoul Blanc from Camledge Vineyard was harvested for a small-lot sparkling wine. The Crimson Cabernet from the Bending Branch Estate Vineyard was also harvested early for a rosé, like last year, but this time with the intention to sparkle.
Multi-generational farming, fantastic people
We work with many vineyards that are multi-generational family operations. When the grapes are harvested, the sense of family is on display when you see parents and children working together. It's also special when the grandparents and great-grandparents are part of it, too. Each harvest with families and friends participating is a highlight.
This has been an outstanding harvest season so far, and we are thankful for all of the growers and harvest volunteers for their dedication.
The Bending Branch winemaking team has been doing an incredible job, and team members in every area of Bending Branch's business have been contributing to harvest and production. It takes a lot of great people working together to make exceptional wine. Cheers to the successes during the first half of harvest!