June 25, 2020 |
Sara Potter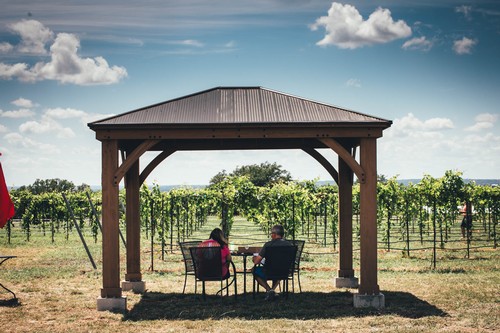 UPDATE AS OF JUNE 26th:
Per Governor Abbott's Executive Order No. GA-28, our Wine Club Lounge is closed. Bending Branch Winery and Ursa at Branch on High tasting rooms remain open for curbside and delivery service. Establishments receiving 51% of sales from alcohol must close their doors but are permitted to remain open for take-out and delivery.
Dear Club Members,
Thank you for your membership and for your patience. The past few months have been challenging, and we are grateful for the incredible support from our members. We have enjoyed visiting with many of you on Zoom, but we have missed seeing you in person. We are excited to invite you to an all-new experience at our Wine Club Lounge.

We are now offering new outdoor experiences by appointment, Thursday through Sunday. Service will be hosted at the Wine Club Lounge and offers shaded seating on the patio, under new cabanas, or tables adjacent to the vineyard. Wine Club Members and guests who are 21+ will enjoy wine by the glass or bottle. Tastings are not available at this time. No pets, please.

Please note: We are taking extraordinary precautions to sanitize and maintain physical distance. If you have any questions about how we have adapted our experience to exceed CDC health regulations, please read the Bending Branch Winery COVID-19 Guest Advisory here.
Reservations are for 1 hour and 15 minutes. We're implementing hard-stops between reservations so we are able to implement rigorous sanitation protocols.

RESERVATION INSTRUCTIONS:
Create an account using the primary email address associated with your club membership.
At the top of Tock, search for Bending Branch Winery.
Select your desired experience. If reservations are full, you may join the waitlist.
We hope you will be able to join us and provide feedback after your visit. Your support means the world to us!
Sincerely,
Dr. Bob Young and the Bending Branch Winery team
P.S. Not a wine club member? You can join here.