September 17, 2020 |
Sara Potter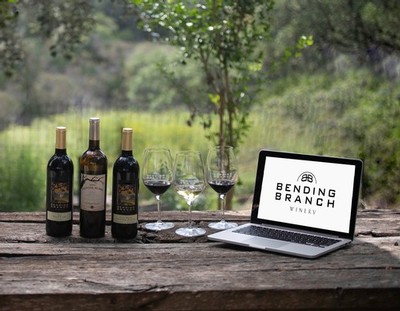 Experience a virtual guided wine tasting with one of our wine educators during this time of social distancing.
Enjoy a virtual tasting at home
The At-Home package contains six bottles of wine; three to taste during your appointment, and three to savor later. Package includes:
Estate Picpoul Blanc, Lost Pirogue Vineyards (2 bottles)
Petite Sirah, Newsom Vineyards (2 bottles)
Texas Tannat (2 bottles)
To select an appointment online, visit our Virtual Tastings page.
Interested in a customized offering for a larger event? Contact us at info@bendingbranchwinery.com.
---
Enjoy a virtual tasting with your team
Looking for a fun team-building event for your organization?
Want to spike engagement in your next virtual meeting?
We have corporate virtual tasting packages ready for your next event, or we can customize an offering to meet your needs.
Signature Tasting Package (2 bottles)
Taste Bending Branch's signature grape varieties in our Picpoul Blanc and Texas Tannat. Experience the value of comparative wine tasting, appreciate body and balance, and get comfortable with wine vocabulary. The tasting culminates in a trivia challenge with prizes.
1840 Premiere Experience (3 bottles)
Enjoy three premium Bending Branch wines, personally guided by Owner and Winemaker Dr. Robert Young, along with members of our team. Understand the winemaker's style and objectives, appreciate the commitment to quality, and discover the vibrant world of food and wine.
Contact us at info@bendingbranchwinery.com for pricing on corporate virtual tastings.
---
What people are saying:
"Our virtual wine tasting was a success! When I arrived at the office today, I had many emails stating what a success last night's event was." –Corporate Tasting Customer
"We had a wonderful time and the wine was excellent. I also shared the remaining wine with a few friends over dinner last night. It was the highlight of my week!" –Signature Tasting Participant
"We not only loved the Tannat, Petite Sirah, and Picpoul Blanc, in that order, we also appreciate Dr. Bob for his commitment to whatever he does." –1840 Premiere Experience Participant
Contact us for more information on virtual tastings at info@bendingbranchwinery.com.