June 15, 2021 |
Sara Potter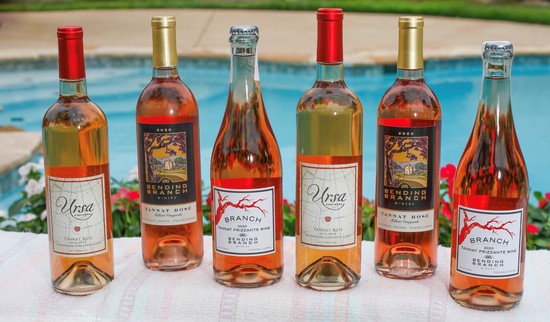 June is all about celebrating Rosé with National Rosé Day on June 12th and then International Rosé Day on June 26th. You can drink pink this summer with an optional 6-bottle club release of three different Tannat Rosé wines from Bending Branch Winery and Ursa Vineyards. A $142 retail value – plus $15 summer shipping.

Log in to your wine club account by July 3rd to opt in, and you will receive a pair of Rosé All Day ventilated wine toppers – perfect for enjoying wine outdoors this summer!

Members who opt in will also receive two tickets to attend our Tannat Rosé All Day release party on Saturday, July 17th. Details to come.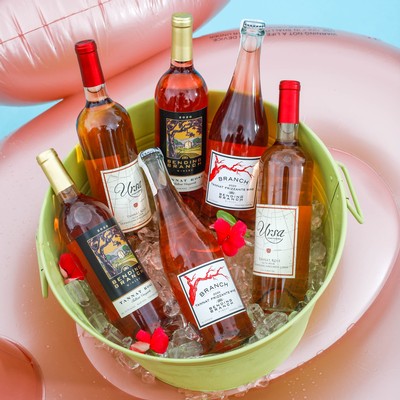 Enjoy two bottles each of these three unique Tannat Rosé wines.
Bending Branch Winery 2020 Tannat Frizzante Rosé, Texas Hill Country
This sparkling Texas Tannat is fruity, fanciful and fun with notes of strawberry, peach and watermelon. Chill well, pop the top, and enjoy the bubbles!
Bending Branch Winery 2020 Tannat Rosé, Tallent Vineyards
A pastel coral hue with fruity aromas, the 2020 Tannat Rosé delivers refreshing lemon-lime flavors with a delicate raspberry kick in this Texas Hill Country wine.
Ursa Vineyards 2019 Tannat Rosé, Silvaspoons Vineyards
Delicate orange peel and rose petal on the nose, followed by apricot and dry minerality reminiscent of Provence in this wine sourced from Silvaspoons Vineyards in the Alta Mesa AVA.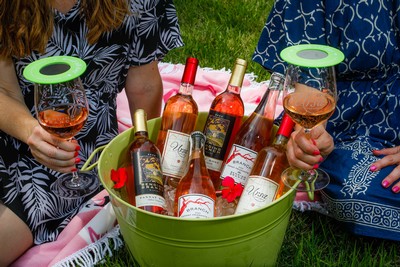 Protect your wine while sipping outdoors!
Receive a pair of Rosé All Day ventilated wine toppers with your Rosé release.

Stock up for summer with optional add-ons to your Rosé release.
Ursa Summer Whites (4 bottles): 2 Chardonnay, 2 Viognier
Bending Branch Summer Reds (3 bottles): Mourvédre, Petite Sirah, Texas Tannat

Ursa Summer Reds (4 bottles): Barbera, Major Red, Mencía, Zinfandel
---
Opt in by July 3rd to receive this club release.
Please verify your shipping or pickup preference. Here's how:
Log In to your wine club account HERE.
Click on Club List
Click Edit Club
Select the number of Rosé packages you would like
Scroll down to verify your shipping or tasting room pickup preference (Bending Branch Winery, Ursa at Branch on High, or Pearl Farmers Market on Saturday, July 24th)
Verify all info and click Submit
---
IMPORTANT DATES:
July 3 Opt in to receive optional release
July 6 Credit cards will be processed
July 10 Pickup begins at Bending Branch or Ursa at Branch on High
July 13 Releases will ship from our fulfillment center
July 17 Save the date - Rosé release event
Questions?
Contact us at club@bendingbranchwinery.com or call the tasting room at 830-995-2948.
Thank you for being a member!