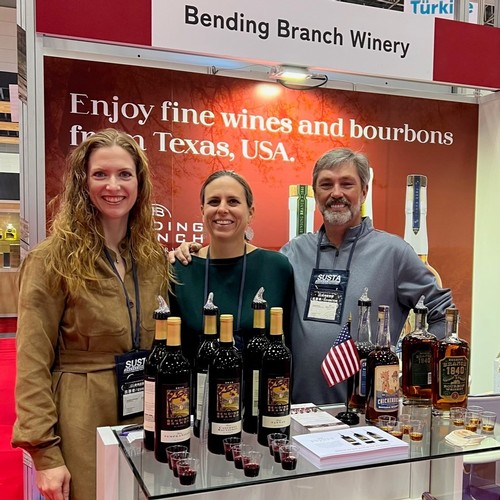 Last month, as part of initiatives with the Texas Department of Agriculture (TDA) and the Southern United States Trade Association (SUSTA), Bending Branch wines and bourbons were presented at FOODEX JAPAN. For wines, we featured Texas Tempranillo, Texas Cabernet Sauvignon, and Texas Tannat. For bourbons, we showed Bending Branch 1840 High Rye and ChickenDuck High Rye.
Top Tokyo Takeaways:
Oishii
Very quickly, I learned the term "Oishii." I kept hearing it over and over again after Japanese tasters tried the Bending Branch wines and bourbons. It generally means, "Very good."
Highball, please.
Bending Branch Master Blender Alison Young has long been a fan of Highballs, sparkling water mixed with bourbon. This is one of the most common cocktails at restaurants and bars in Japan. ChickenDuck High Rye or Wheated Bourbon is perfect for a Highball because of the big flavor profiles.
Texas Tannat with American Beef. Texas Cabernet Sauvignon with Japanese Wagyu Beef.
Several Japanese chefs tasted the three wines that we presented. For pairing suggestions, multiple chefs talked about pairing Texas Tannat with American beef and Texas Cabernet Sauvignon with Japanese Wagyu beef. These work for me!
Texas wine truly is a novelty.
"Have you ever tried Texas wine?" was the question that I asked hundreds of tasters, and about 99% of the time, the answer was "No." The follow-up question from the tasters was, "Wine is produced in Texas?!"
So aside from the surprise that wine is being produced in Texas was the surprise that Texas wine is good!
Other Texas producers participating in FOODEX JAPAN and the TDA Outbound Trade Mission included Island Getaway Rum, Pecan Grove Farms, Veldhuizen Cheese, and William Chris Wine Co. Special thanks to TDA and TDA Program Director Nikki Jackson, and SUSTA for their work organizing and supporting Texas businesses.