June 4, 2020 | Sara Potter
June Virtual Happy Hour Schedule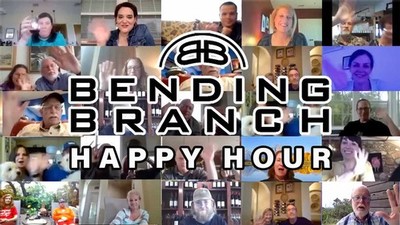 Join the Bending Branch team on Zoom from 4 to 5 p.m. CDT every Friday for Virtual Happy Hour. Here's our schedule for June.
June 5th – Bubbles!
This week we're featuring the perfect wine to toast your June celebrations: Bending Branch Brut
---
June 12th – Tannat Rosé All Day
June 13th is National Rosé Day! We will feature three very different Tannat Rosé wines: Branch Texas Frizzante Rosé, and new releases Bending Branch 2019 Tannat Rosé, and 2019 Ursa Tannat Rosé
Special guests: Ursa Winemakers Deborah Elissagaray and Greg Stokes will join us from California and tell us all about the new release 2019 Ursa Tannat Rosé. Ursa wines are available at Ursa at Branch on High in Downtown Comfort.
---
June 19th – Cheers to Dad!
Father's Day is June 21st, so we're featuring the wines from our Father's Day Premium Red Package: Double Barrel Tannat, Tannat RF|EM, and Old Vine Petite Sirah
---
June 26th – Poolside Favorites
What is your favorite poolside wine? You can't go wrong with any of the wines from our Summer Surprise Six-Pack!
---
If you don't have the wines we're featuring each week, just open whatever you have. So, get your glasses ready, and we'll see you on Zoom at 4 p.m. every Friday.
How to join us on Zoom: https://us02web.zoom.us/j/85094045954
We look forward to seeing your faces!