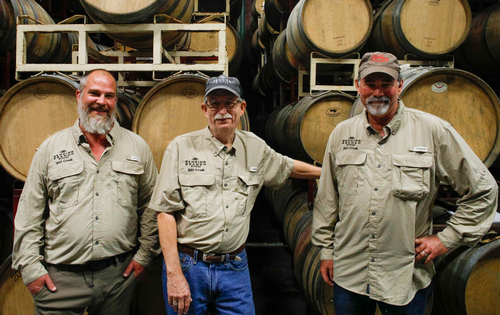 Pictured left to right: Chad Kurtz, Dr. Bob Young, Greg Stokes
COMFORT, TX (July 17) – This season, Bending Branch Winery will have its largest harvest to date, bringing in more than 30 grape varieties from over 30 vineyards for Bending Branch and custom crush clients. While one of Bending Branch's important vineyard partners in the Texas High Plains saw devastating hail a couple of months ago, overall, the harvest yields are up across the state.
Bending Branch received its first fruit – Blanc du Bois – on July 8. Bending Branch Vineyard Manager Melvin Mendez hand harvested the Blanc du Bois to be crafted as a Floc de Gascogne-style sweet aperitif wine. More Texas Hill Country fruit is being harvested this week; the tentative harvest dates for the Estate vineyards range from the end of July to the first week of August. This season, Bending Branch will also receive the first-ever Charbono harvested in Texas.
Premier Winemaking Team
Bending Branch boasts the talents of four winemakers this harvest: CEO and Executive Winemaker Dr. Bob Young, Winemaker Greg Stokes, Assistant Winemaker Chad Kurtz, and Consulting Winemaker Christopher Missick.
Known as a pioneer in the Texas wine industry for his work with unique grape varieties and innovative winemaking techniques, Dr. Bob Young will work his 14th harvest season with Bending Branch. A grape extraction expert, he closely plans when to utilize natural tools like Cryo-Maceration (freezing the grapes to extract approximately 50% more color, tannin, and flavor) and Flash Détente (rapid heating then cooling to extract approximately 100% more color, tannin, and flavor). He routinely experiments in the vineyard and cellar, experimenting with types of wines that are new to Texas such as Tannat, Souzão, Picpoul Blanc, Crimson Cabernet, and Camminare Noir. Dr. Bob holds a Winemaking Certificate from University of California, Davis. Now CEO and Executive Winemaker at Bending Branch, Dr. Bob charted a distinguished career encompassing family practice in underserved rural communities, serving in public health administration as chief executive of two state health departments, and pioneering a new specialty in inpatient medicine called Hospitalists.
Dr. Bob and Brenda Young hired Greg Stokes as a consultant for Bending Branch in 2007. Greg and his wife Deborah, Winemakers at Ursa Vineyards in the Sierra Foothills, were the first to make Tannat in California. In addition to being a highly regarded viticulturist and vineyard consultant, Greg is an extremely talented winemaker. When Bending Branch was founded in 2009, its first wines were made by Dr. Bob and Greg at Ursa Vineyards. The Young family purchased the Ursa brand in 2014, making Greg a permanent part of the team. This year is Greg's 39th crush and he has been immersed in harvest in two states per year for over a decade. For five years, he crushed in both Arizona and California, and this is his eighth year crushing in Texas and California. Greg will be in Texas often for the Bending Branch harvest, and he returns to California in September for Ursa's harvest season.
Chad Kurtz starts this crush with 11 prior Texas seasons under his belt. Chad runs the day-to-day cellar operations, managing nearly 500 tons of fruit expected this harvest season for both Bending Branch and its clients. He is an expert in the nuances of working with Texas fruit, as he has extensive experience implementing and refining extraction protocols.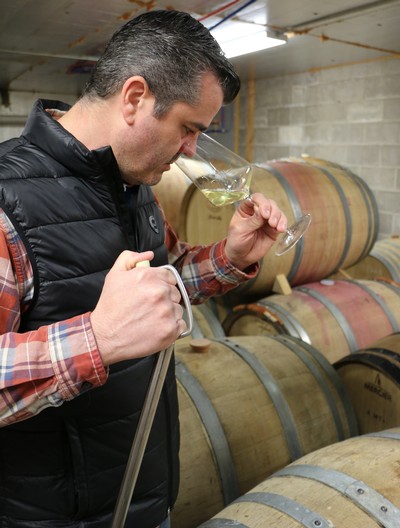 Pictured: Chris Missick
Chris Missick joins the team this harvest as Consulting Winemaker where he will spearhead the white and rosé wine programs. Chris and his family have just recently moved to Boerne after many successful years as Winemaker at Missick Cellars, formerly Villa Bellangelo, in New York's Finger Lakes region. Chris is known for producing incredible white wines and has pushed the envelope with traditional method sparkling wine production. He is looking forward to making wine in Texas and to starting this season with the Bending Branch team on July 19.
###
Contact:
Sara Potter, Executive Marketing Coordinator
sara@bendingbranch.com