February 8, 2021 | Jennifer Cernosek
Looking for a creative Valentine's Day gift?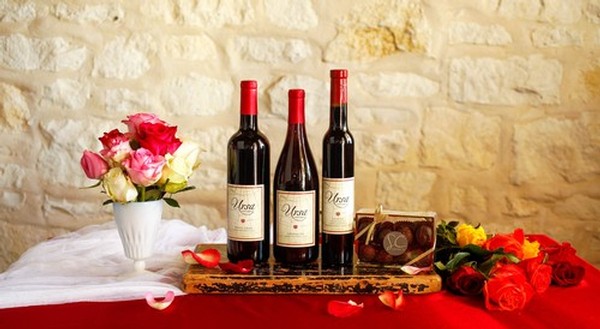 Book a live virtual wine and chocolate tasting on Valentine's Day, and enjoy premium wine and chocolates from the comfort of your home. Not just for sweethearts, this experience works for long-distance family members, friends looking for a Galentine's Day excursion, singles looking for a group event, and more.
What's included?
3 bottles of wine
Enjoy three premium bottles of Ursa Vineyards wines – 2018 Grenache (750 ml), 2017 Petite Sirah (750 ml), and 2015 Souzão Port-style wine (375 ml). The Port-style Souzão was just released and is a dessert wine aged in bourbon barrels.
8 chocolate truffles infused with wine
Local confectioner Sweet Comfort infused dark chocolate with wines from Ursa Vineyards. Includes 2 Grenache-infused truffles, 2 Petite Sirah-infused truffles, and 4 Souzão-infused truffles.
Guided virtual tasting on Zoom
Our wine professionals will lead the group of participants through tasting each wine and pairing the wines with the specially curated box of chocolates. The Zoom link and instructions will be emailed to participants prior to the tasting event.
Two times available: 2 p.m. or 4 p.m. on Sunday, February 14th
Package is $125. Gold Rush Club pricing applies ($100). All package orders are eligible for $10 promotional shipping. Choose your time and purchase HERE.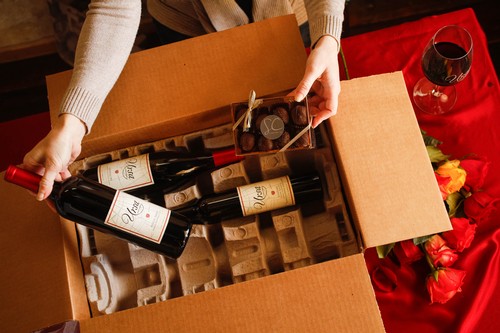 Valentine's Day is almost here! If your package needs to be shipped, timing is getting tight. If ordering to ship to a Texas location, we recommend submitting by 10 a.m. on February 10th. If ordering to ship to another state, please contact us at club@ursavineyards.com to verify shipping time.
You can also pick up your package from Ursa at Branch on High, located in historic downtown Comfort. In fact, if you prefer to wait until the last minute, Ursa at Branch on High will be open until 8 p.m. on Saturday, February 13th. Cheers!