Our staff has the advantage of getting to know Bending Branch wines really well. Read what some of our team members are enjoying right now. Comment to tell us your favorites.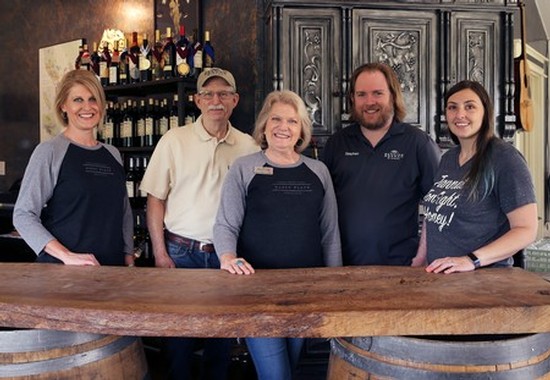 Pictured: Sara, Dr. Bob Young, Kim, Stephen, and Sami (Photo credit: Kin Man Hui/San Antonio Express-News)
Robert W. Young, M.D., Owner and Winemaker:
I'm drinking the 2012 Reserve Petite Sirah from Shell Creek Vineyards because it is tasting so incredibly good right now. It is bursting with black fruits and it has just the right integration of American oak.
Terri, Tasting Room Associate:
Normally, I would choose a red but it's HOT out there, so my favorite to drink right now is the 2018 Tannat Rosé, Tallent Vineyards. Here's why: It's a great summer wine for those, like me, who typically enjoy a rich, full-bodied red. The initial burst of ripe strawberry flows smoothly into a lush, slightly nutty finish resulting in a rosé that is refreshing and robust at the same time. I love to drink it ice cold by the pool and with my favorite summer foods like brisket, barbecued chicken, and potato salad.
Jim, Tasting Room Associate:
My favorite wine is the Tannat RF|EM from Bella Collina Vineyards. It's not the wine to drink outside on a hot day, but if you grill a good steak in the evening and are dining inside in the A/C, this silky smooth Tannat will enhance the steak.
Stephen, Senior Tasting Room Associate and Wine Educator:
I'm enjoying the 2013 Tannat from Silvaspoons Vineyard. It manages to be both fruity and earthy. One of our best kept secrets.
Will, Tasting Room Associate:
My favorite wine to drink right now is the 2018 Estate Picpoul Blanc from Lost Pirogue Vineyard. The green melon notes, minerality, and crisp finish pairs well with one of my favorite summer dishes, pan seared lemon pepper trout. It is also exciting that we are able to source such quality fruit from just down the road in Center Point in the Texas Hill Country AVA.
Tom, Tasting Room Associate:
2014 Old Vine Petite Sirah from Shell Creek Vineyards is our hands down favorite for pairing with duck and lamb (and occasional venison) dinners at home. Alone, it is rich in aroma, intense in flavor, and balanced in tannins. The deep color and viscosity make for a beautiful glass of wine. It has a nose spanning both savory and bakery spices, combined with dark fruit flavors and a hint of figs. On the table, it compliments a range of our game and lamb recipes, and its lingering finish outlasts those often bold meat flavors.
Kim, Tasting Room Associate:
I'm a true Chardonnay fan, and for that reason I love our 2016 Comfortage! This 100% Roussanne variety is in the Chardonnay family and is aged in American oak barrels. The soft floral and fruit notes go down easily on a hot summer day.
Kelly, Tasting Room Associate:
One of my favorites is still our 2015 Malbec from Newsom Vineyards. I love the caramel on the nose and how surprisingly smooth and elegant it is. I love the fruit/cherry finish, and it's one I'll always go for – even in the summer. And on a really hot day, I'm loving the 2018 Estate Picpoul Blanc from Lost Pirogue Vineyards. It is light and refreshing, zingy but balanced – the colder the better!
Sami, Tasting Room Manager:
My favorite wine to drink right now is 2016 Texas Tannat®. It has so much big, bold fruit and flavor that I find myself having a hard time putting the glass down. I recommend drinking it with dinner in the A/C!
Amy, Tasting Room Associate:
My favorite Bending Branch wine changes often and it is so hard to have one favorite, but right now it is our 2016 Texas Tannat®. It's very bold yet smooth and has an exquisite taste. It is definitely one that I encourage everyone to try.
Sara, Executive Marketing Coordinator:
I have many favorites, so it's hard to pick just one. I'm enjoying Estate Picpoul Blanc and Tannat Rosé on hot days, but bold reds are my true love. The 2015 Petite Sirah from our friends at Newsom Vineyards is spectacular. Full-bodied and fruit-forward with deep, inky color, this wine is just luscious! It's no surprise that it brought home Double Gold from the San Francisco Chronicle wine competition. Better hurry, there is not much of this vintage left.
All of these wines are available on our website. Be sure to stop by one of our tasting rooms and chat with the staff about your favorites!