November 2, 2020 | New Release | Jennifer Cernosek
Ursa Vineyards Releasing Angelica Wine Soon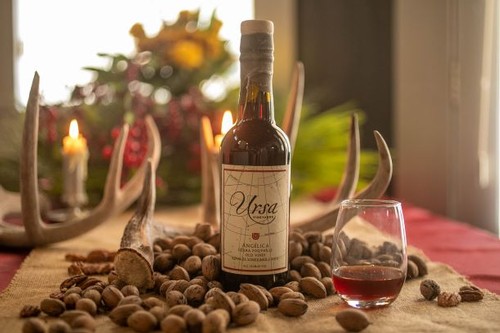 Ursa Vineyards is set to release Angelica wine with the November 2020 Gold Rush Club release.
Angelica is a fortified dessert wine made from the Mission grape. The Mission grape was introduced to California in 1778 and was the primary wine grape for nearly a century. Angelica was originally made by Franciscan missionaries, and it was also a regular beverage of the gold miners during the Gold Rush.

Today, Angelica is known as one of California's most historic wines. It is extremely rare with a very limited number of vintners producing it. The process of making the wine includes partially fermenting the grape juice before fortifying it with brandy. Angelica typically ages for at least five years in barrel before it is bottled. The long aging process is one of the keys to its rich taste.

The grapes from Ursa's Angelica come from Rinaldi Vineyard, one of the oldest vineyards in the Sierra Foothills, and one of the few vineyards still growing Mission grapes. Original plantings in the vineyard date back to 1865. After crushing the grapes, the fermentation was barely started and then it was fortified with brandy. After aging in barrel for seven years, the 2013 Ursa Angelica was bottled.

With a taste as rich as its history, the 2013 Ursa Angelica is one to savor and share, especially during the holiday season. It can be enjoyed for up to a month after opening, if stored properly in the refrigerator. Ideal food pairings include toasted pecans or Italian cream cake. For a simple dessert, try drizzling Angelica on top of vanilla ice cream.