February 24, 2022 | Sara Potter
Texas Tannat Represents at the Wine Museum of Paris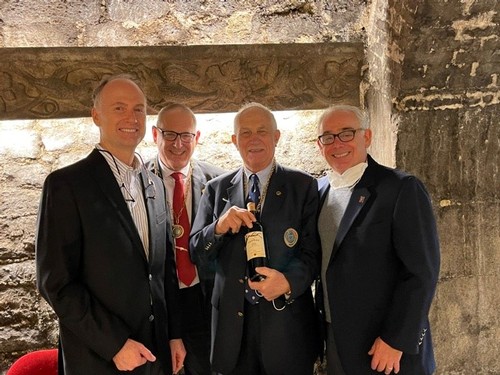 A Bending Branch Tannat recently made its debut at the Wine Museum of Paris. Located near the Eiffel Tower, the Musée du Vin Paris was born thanks to the will of the members of the Council of The Échansons de France, an association whose goal is the defense and promotion of French wine in the world. The museum's permanent collection, rich in more than 2,200 objects and property of the Council of The Échansons de France since 1984, pays tribute to all those who have worked to produce world-famous wines. Trades and traditions are evoked, illustrating several thousand years of know-how and the richness of French winemaking heritage.
So, how did a Texas Tannat make it all the way to the Wine Museum of Paris? Bending Branch Co-Owner and Winemaker Dr. Bob Young was inducted into the Renaud Society in 2009. The Renaud Society is a group of medical professionals with an interest in better health and a passion for wine. The Society honors the legacy of Professor Serge Renaud, father of the French Paradox, and supports wine and health research and education, and promotes the sharing of wine and health interests among medical colleagues worldwide. In May of 2019, Dr. Bob attended the International Wine & Health Summit held at UC Davis, where he met Dr. Tedd Goldfinger, Arizona cardiologist and Grand Maître of the Renaud Society. Dr. Bob left some Bending Branch wines with Dr. Goldfinger after the summit, including a 2014 Tannat.
On January 29, 2022, Dr. Goldfinger poured Bending Branch's 2014 Tannat CM, Newsom Vineyards, at a Fédération Internationale des Confréries Bachiques (International Federation of Wine Brotherhoods) meeting held at the Wine Museum of Paris where it was met with rave reviews. In 2018, this wine earned a score of 90 points in the James Suckling American Wine Revolution and was also awarded a gold medal at the Lone Star International Wine Competition.
We are honored that our wine was represented in Paris and was met with such enthusiasm. We would like to thank Dr. Goldfinger for sharing the great photos and video from this tasting. We would also like to thank Marie Bourdillas from Vignobles Bourdillas for translating the video. Cheers to Texas Tannat on the world stage! Brought to you by the Tannat House of Texas.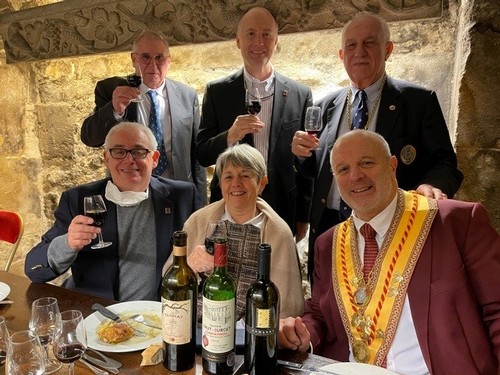 Pictured bottom left: Dr. Tedd Goldfinger