February 13, 2019 | Awards |
Small Package. Big Impact.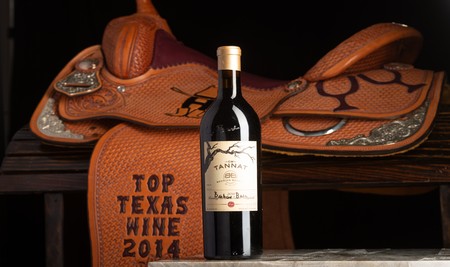 We are excited to announce that the 2011 Bending Branch Winery Estate Tannat will be auctioned for the second time to benefit youth scholarships.
In 2014, the 2011 Estate Tannat from Bending Branch Winery received the Top Texas Wine award at the Rodeo Uncorked! International Wine Competition. The award was presented by the George H. W. Bush Library Foundation. A magnum bottle of that wine was auctioned at the Champion Wine Auction, for $100,000 – which, at that time was the second highest bid for a Texas wine.
The Youngs were honorary co-chairs at the 2014 Vintner Dinner and Wine Auction at the George Bush Presidential Library Foundation. A few weeks later, they received a bottle of that wine signed by George H. W. and Barbara Bush. The Youngs have coveted and cellared that wine with care for five years. As a way to honor President Bush and his wife, Barbara, and their legacy of philanthropy, the Youngs have offered the autographed bottle to the Houston Livestock Show and Rodeo Uncorked! Champion Wine Auction to raise money for scholarships. Part of the agreement is that 50 percent of the money raised will benefit local youths through scholarships administered by the Comfort Area Foundation. Comfort, Texas, is the home of the Youngs and Bending Branch Winery.
You can view this item via the auction link. The auction will be held on Sunday, February 24, in Houston.
Bending Branch Winery will celebrate Open That Bottle Day on Saturday, February 23, by uncorking the celebrated 2011 Estate Tannat in the Bending Branch Winery Estate tasting room and Wine Club Lounge. For a $5 donation, you can taste the wine, and those proceeds will benefit Comfort Area Foundation scholarships.