October 22, 2020 | Sara Potter
We are now open for outdoor tastings by appointment!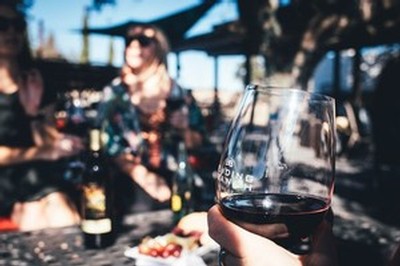 The Bending Branch team is excited to welcome wine lovers back for tastings by appointment seven days a week on our shaded deck and patio starting this Saturday, October 24th. We will offer a self-guided tasting of four wines for $20. Paid tastings include a souvenir wine glass.

All tasting experiences are seated and self-guided.
This casual, self-guided tasting is designed to minimize contact and encourage tasting wines at your own pace. You will pick up your wine tasting set from the tasting room, and take it back to the table you selected upon your arrival.

The four wines will be served in individual carafes for self-service with a single-use menu that will guide you through the wines. Guests are welcome to purchase additional glasses or bottles after their tasting. Maximum group size is six including children.

We are currently accepting reservations through Tock.
Reservations are for 1 hour and 15 minutes. We're implementing hard-stops between reservations to conduct sanitation protocols.

Safety is our top priority.
We are taking extraordinary precautions to sanitize and maintain physical distance. We have adapted our experience to exceed CDC guidelines.
It is very important to read the Bending Branch Winery COVID-19 Guest Advisory before your visit.
---
--> CLICK HERE TO MAKE A RESERVATION THOUGH TOCK. <--
---
Attention Wine Club Members:
If you want to enjoy your complimentary tasting or glass at the estate tasting room, you still need to make a reservation for a tasting. Upon arrival, you can choose the tasting flight or opt for a complimentary glass of wine.

If you haven't done so already, create a Tock account using the primary email address associated with your club membership. You must be logged in to Tock when making reservations in order to receive your complimentary benefits and access to experiences at the Wine Club Lounge.

Just a reminder that Wine Club Lounge experiences are only available on Saturdays and Sundays, and you can now enjoy a tasting there as well. Member(s) receive complimentary tastings or glasses of wine and complimentary tastings for up to two guests.
---
If you have questions or need help making a reservation, please contact the tasting room at 830-995-2948. We can't wait to see you!