June 15, 2022 | Awards | Sara Potter
Ursa Tannat earns 99 points at the 2022 California Commercial Wine Competition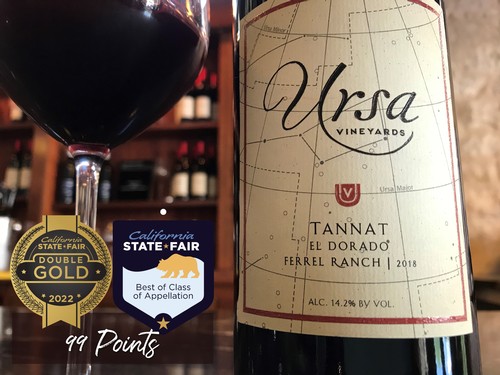 The California State Fair has announced the winners of the 2022 California Commercial Wine Competition. The highly anticipated event was held June 1-3 at Cal Expo in Sacramento.
This year, a panel of 44 official judges tasted and evaluated 1,953 California wines from 443 California wineries. The competition, which had been on a 2-year hiatus due to the COVID pandemic, celebrates the wine growing and wine producing industry in California. It is open only to wines made with fruit grown and produced in the eleven growing regions across the State of California. Wines are evaluated by class, varietal, style, and region based upon the source of the grapes. Total medals awarded were 99 Double Gold, 257 Gold, 878 Silver, and 583 Bronze.
Eleven Ursa Vineyards wines were entered in the competition, three of which earned Best of Class Appellation awards. The star of the show was the 2018 Tannat, Ferrel Ranch, which earned a Double Gold medal, Best of Class Appellation, and a whopping 99 points.
"We're thrilled with the results from the California State Fair. I love that all our wines placed, but especially our flagship Tannat with Double Gold, 99 points, AND Best of Appellation El Dorado. It's an honor to have done so well and in such good company," said Deborah Elissagaray.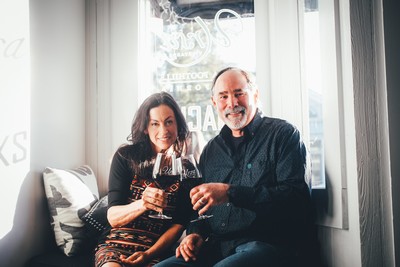 Congratulations to Ursa Winemakers Deborah Elissagaray and Greg Stokes!
Ursa's results:
2018 Tannat, Ferrel Ranch, El Dorado *
Best of Class of Appellation, Double Gold/99 points
2020 Viognier, Hidden Mesa Vineyard, Sierra Foothills *
Best of Class of Appellation, Silver/91 points
Major Red, Sierra Foothills *
Best of Class of Appellation, Silver/88 points
2018 Mencía, Silvaspoons Vineyards, Alta Mesa
2018 Souzão, Sierra Foothills
2018 Cabernet Sauvignon, Ferrel Ranch, El Dorado
2018 Syrah-Sirah, Sierra Foothills
2018 Petite Sirah, Sierra Foothills
2020 Chardonnay, Wilson Vineyard, Clarksburg *
2018 Barbera, Lone Meadow Vineyard, Sierra Foothills
2018 Zinfandel, Sierra Foothills *
Dating back to 1854, the California State Fair Wine Competition is America's oldest and most prestigious wine event. For more than 160 years, the California State Fair has showcased the Best of the Golden State. Visit the Cal Expo website for a full list of winners: FULL LIST
* Available now at Ursa at Branch on High