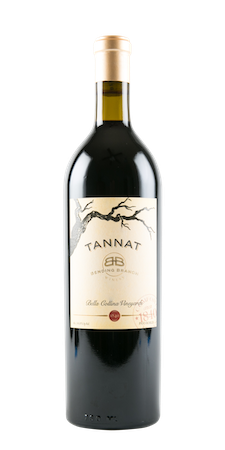 Tannat RF|EM, Bella Collina Vineyards
A portion of the wine went through regular fermentation (RF) and was pressed when it was dry. The remainder of the wine underwent extended maceration (EM) for another month. Counterintuitively, the result is smoother texture and slightly lighter color, as the tannin molecules bond into silky chains and pigment drops out.
Wine Specs
Vineyard Designation
Bella Collina Vineyards
Aging
32 months in 25% new French and American oak
Fermentation
A blend of Regular Fermentation and Extended Maceration of 30 days
Wine Profile
Tasting Notes
Our Tannat RF|EM is loaded with robust sour cherry, smoky blackberry and dark cocoa flavors. Complex aromas of tobacco leaf, eucalyptus, cinnamon and cedar dominate the long, rich finish.
Food Pairing Notes
Whether steak or roast, juicy rare meat with a luxurious amount of fat will show off the complex fruit of this Tannat. A classic steak frites or roast duck would be a very classy indulgence. But if the rent is due, chopped chicken liver pate would be closer to the farmyard roots of this wine's French heritage. And as long as you're on a cholesterol binge, don't forget the cave-aged Gouda.